This past weekend, my mom and I drove 32 hours from Raleigh to Phoenix with her dog. It was a long, long two days. Then we watched several episodes of Outlander and I was acutely reminded of just how much sex is in that show.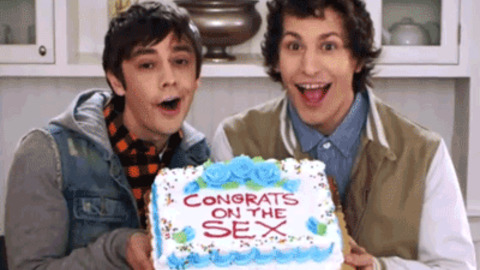 Those things aren't really relevant to this week's discussion, I just wanted to share. Now let's talk about TV!
The 100 – The 100 impressively managed to not kill anyone (well, anyone with a name at least) for a whole week. Well done, take a cookie! I thought this week's episode was great. Raven once again killed it on screen, Jasper is back to being cool and useful instead of drunk and mopey, Bellamy is trying to redeem himself and now all of Arkadia are Alie zombies!! I know a lot of people feel like Bellamy is past the point of redemption, but as an avid soap watcher, I am used to looking past a  character's misdeeds like murder, treason, betrayal, etc., as long as they have a really solid redemption arc. I also find myself being strangely charmed by Ontari. Don't get me wrong, I can't wait for someone to murder the shit out of her, but I am enjoying her brand of crazypants villainy way more than I ever did Pike. I know a LOT of people (all of Tumblr) are upset about the scene between her and Murphy but I am curious to see how the show plays their relationship in the next few weeks. I think that will affect how to read that scene.
Outlander – Yay, Outlander is back! Even though I only watched the show for the first time like 2 months ago, it felt like it took forever for season 2 to start. I am surprised that they started with Claire returning to 1948 right at the beginning but considering that her pregnancy is not showing at all yet, it doesn't seem like she spent that much time in France before Jamie sent her away. I feel like she is going to be returning to the past pretty soon. The scenes between her and Frank were pretty wrenching, especially when she was getting flashes of Captain Randall and it will be interesting to see their relationship, though it feels like it's going to disintegrate pretty much immediatly. Also, it was hard for me to focus on the first 30 minutes because the whole time I was thinking about how much I missed Jamie. I'm glad that the show mentioned the lingering effects of his ordeal with Randall and I hope that means that they are going to spend some time with the character and seeing how he deals with that as time progresses.
The Magicians – I've actually been reading these books and though I've only finished the first one so far, I'm really impressed with the choices that the show has made. I definitely prefer the show to the books so far. I am glad that Quentin finally realized that Alice is better than him at everything (let's be real though, he just did not want to drink a full jar of Ram God jizz). I know that we're supposed to be rooting for Quentin and Alice, but I'm not going to lie, I kinda ship Alice and Penny, because Penny is the best.  Julia's realization about what happened to her was chilling and difficult to watch, but I thought the show did a good job with some very dark material. I am very interested to see what happens in Season 2 with Julia's revenge, Eliot trying to be a straight King and Penny dealing with his lack of hands (is Alice dead? probably not right?)
So that's what I've got for this week. What about you guys?