It's the Golden Age of Television, and in more ways than one. As TV gets better and better, the men on the small screen seem to be getting hotter and hotter. And as you'll see in this bracket, some sexy stars of the big screen have been defecting to television too. Let's judge them!
John Cho (1) vs. William Jackson Harper (16)
John's name has become almost synonymous with "obscenely attractive" whereas you couldn't be blamed for overlooking William's beauty on The Good Place, where it is somewhat hidden under the bushel of his character's neuroses. Sadly I was unable to find good shirtless pics of either of these foxes but a little mystery never hurt anybody!
John Cho
Remember season one of Sleepy Hollow, back when it was a good show with great promise? Raise your hand if you still had a crush on John even after he was a undead weirdo with a fucked up neck. There has been an entire internet campaign to get him more leading roles and let me tell you, it's not just because of his acting skills!
William Jackson Harper
The Good Place is a delightful show full of very hot people. William Jackson Harper is perfect as Chidi, who I think we all fell in love with along with Eleanor. But is he hot enough to take down a #1 seed?
Rami Malek (8) vs. Damon Wayans Jr. (9)
Here we have a showdown between drama and comedy. When they both come in such appealing packages, how's a person to choose? By looking at pictures of the two of them taking us to the only acceptable kind of gun show, obviously!
Rami Malek
I had been mentally referring to Rami as Mr. Robot for quite a while when somebody told me that he isn't even Mr. Robot on Mr. Robot. So I think now I will just call him Mr. Ro-HOT.
Damon Wayans Jr.
Last time we held this tournament, Damon's fictional roommate Jake Johnson came in second place. Will he upload the glory of apartment 4D?
Jude Law (5) vs. Cress Williams (12)
One is a movie star who played the pope on TV. The other is a longtime TV costar who won our hearts as the mayor of Bluebell, Alabama. Whose charms are greater?
Jude Law
Jude has been appearing on lists of hot men for a very, very long time. And in that annoying way that men have, he still looks good even though he's no spring chicken. So good that he was the star of a show that may as well have been called "What if the Pope, but hot?"
Cress Williams
Cress has also been around for a long time. My first memory of him is as Drew Barrymore's work buddy George in Never Been Kissed. Many years later, I fell in love with him as Mayor Lavon Hayes on Hart of Dixie. He's currently starring as a superhero in Black Lightning, but more importantly he was considered hot enough to play Michael B. Jordan's dad on Friday Night Lights.
Adam Driver (4) vs. Milo Ventimiglia (13)
These two have both notably played hipster assholes on female-centric TV shows (Adam on Girls and Milo on Gilmore Girls). Both are on career highs at the moment as well, and serving as eye candy for a great many people across the world.
Adam Driver
I don't get Adam Driver and I found his shirtless scene in The Last Jedi to be 30% hilarious/70% gross, but I know and accept that he is considered a babe by the general populace. So here he is, you guys. He's all yours!
Milo Ventimiglia
Milo was a big part of my adolescence, since I had a major TV crush on Jess. The fact that he is now playing a father on TV makes me feel ancient, but I have to admit that even the silly mustache can't hide the handsomeness of his face.
Riz Ahmed (6) vs. Steven Yeun (11)
Riz and Steve are both versatile actors, appearing both on TV and in films, and they both have very good faces. But whose face is best?
Riz Ahmed
Riz has made memorable TV turns in The Night Of and The OA, joined the Star Wars universe in Rogue One, and most importantly, earned the title of Official Dreamboat through a combination of his looks and his commitment to social justice. Call me, Riz!
Steven Yeun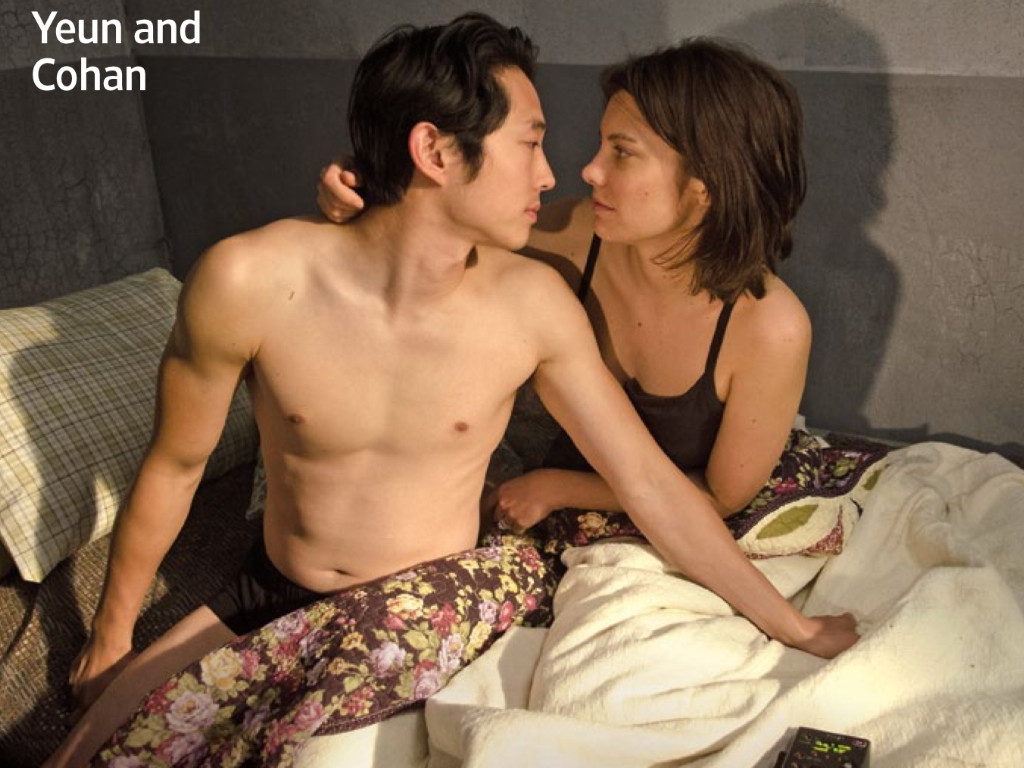 I have never watched The Walking Dead but have frequently thought "Who's that? He's cute!" when seeing screencaps on the internet. When watching Sorry To Bother You at Sundance (which you may remember me humble-bragging about in the last post, since it stars Lakeith Stanfield) I thought "Hey, it's that cute guy again!" All you really need to know is that it was realistic that his character would be sexually appealing to Tessa Thompson's character, the highest honor of all.
Gael García Bernal (3) vs. David Harbour (14)
I would 100% watch a buddy cop movie about these two. The likelihood of that happening may be low, but one can dream! In the meantime, let's decide who's hotter.
Gael García Bernal
Gael can switch between impishly charming and devastatingly hot with ease, and it's hard to say which Gael I prefer! Also, to air an old grievance, it is INSANE that Amanda Seyfried dumped him for that dweeb in Letters to Juliet.
David Harbour
Stranger Things is not a show one watches for the eye candy, but there's a strange charm to Jim Hopper that can't be ignored. It doesn't hurt that he's a delightful presence on social media (see above)!
Kumail Nanjiani (7) vs. Michael Shannon (10)
Do you like your men hilarious or terrifying? That's the question you'll all have to answer in this strange pairing!
Kumail Nanjiani
Kumail has been making us all laugh our asses off for years but he really came into his own as a bonafide movie star in The Big Sick last year. Handsome and funny is a pretty deadly combination.
Michael Shannon
I considered not adding Michael to the tournament this year after some very suspicious voting surges in the last tournament, so be warned: if there appear to be any shenanigans this time around I will disqualify Michael even though I love him so. Ultimately I couldn't resist including him after his performance as Iggy Pop at a David Bowie tribute show a few months ago (see above).
Manny Jacinto (2) vs. Taylor Kitsch (15)
We were only graced with the sexy presence of Manny very recently, as hot dummy Jason on The Good Place, whereas Taylor Kitsch has been inciting thirst since his run as Tim Riggins on Friday Night Lights. I wasn't able to find a shirtless still of Manny, just a GIF, so it seemed only right to do the same for Taylor. You're welcome!
Manny Jacinto
Jason on The Good Place is so incredibly dumb that it should be impossible to find him hot, and yet… Manny. If he was the main character, they would have to change the show's name to The Good Face.
Taylor Kitsch
After a few rough years Taylor is back on top, after a turn in True Detective followed by playing David Koresh on Waco. Do you feel "Texas forever" deep in your soul?
That's it for today! Make your picks and we'll meet again for the last bracket of the first round: Other Hotties.