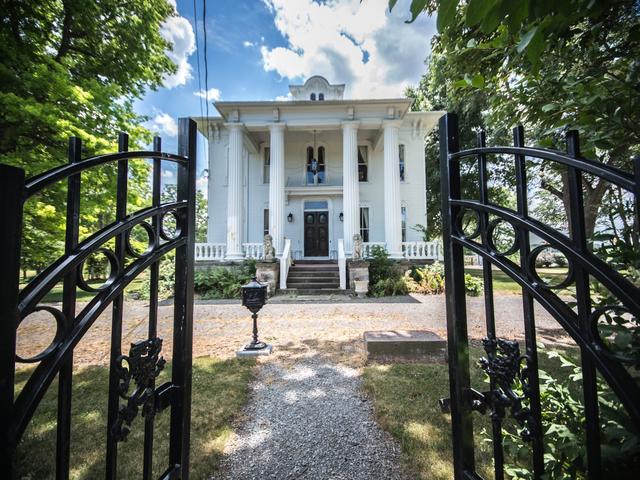 Built in 1878 and dubbed The Pillars Estate, this antique gem sits in the middle of bucolic/polar-vortexed Upstate New York farm country, where it is currently for sale at a massively reduced rate and is home to a highly active ghost. I'm sure those two facts are humble coincidence.
"Highly active?" you say, raising an eyebrow. "Surely just another of those ectoplasmic nonesuches that taunt one to feel quizzical about the finality of death whenever one finds a cold spot in the hall — or perhaps misplaces a set of keys." Yeah NO, I mean this ghost is sighted all the time. She wanders halls, she lies on beds, she LIVES there. She wears a white dress. She goes up and down the stairs. She even plays piano. You can listen. Her name is Patricia Carr. Mrs. Carr lived in the house starting in the 1940s with her husband, Mr. Carr, and died in it.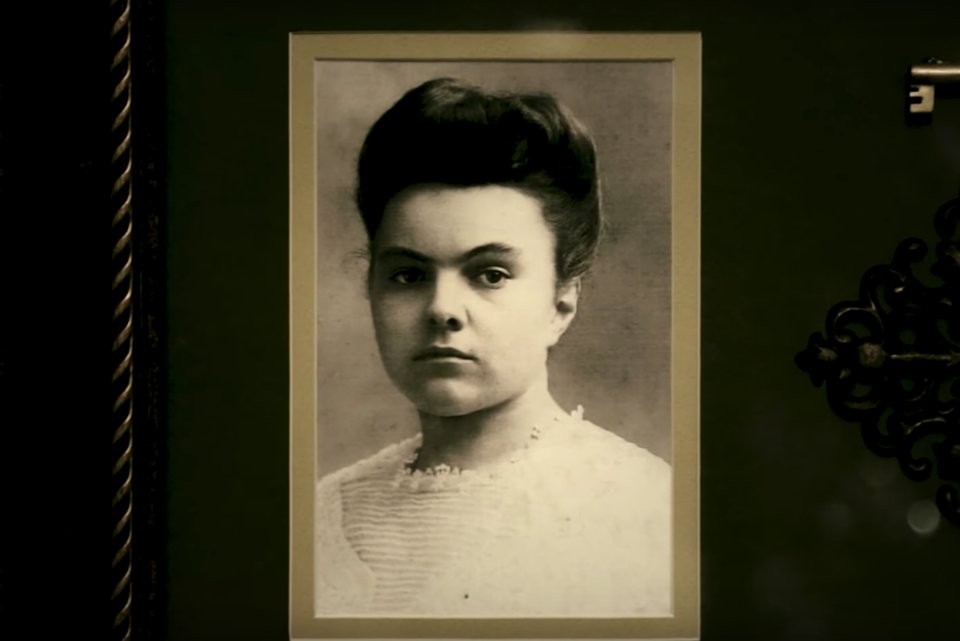 We must assume Mr. Carr murdered her in gruesome fashion, and then all the neighborhood children, one full-moon Halloween, under the home's massive stained glass window that depicts, in 666 shades of red, the Biblical tale of the beheading of Holofernes. Unfortunately, the writeup I read omitted these or similar details and said only that she died "in the lady's parlor." Originally I took that to mean that this house is so huge, it has three parlors, including a men's parlor and a parlor for mixing, but now as I type this paragraph I suspect it is a euphemism for "on the toilet."
The house is huge, though. Six bedrooms, space for a piano, and an addition built after 2011 that is meant to be a replica of the Titanic ballroom.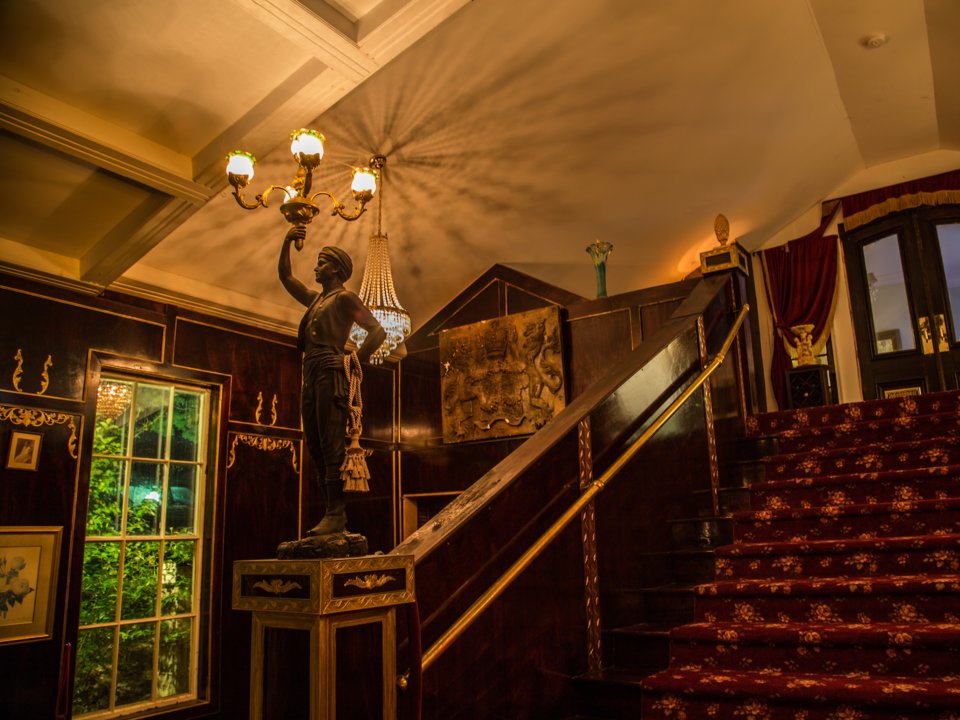 "Replica of" overstates, but it's very close. Let's go with "redolent of." Think how you could use this room. You could host a Titanic-themed party. A wedding. A Titanic-themed wedding. An ordinary day. Make it a place to put the trash you can't take out because of the snow, Dec-Mar.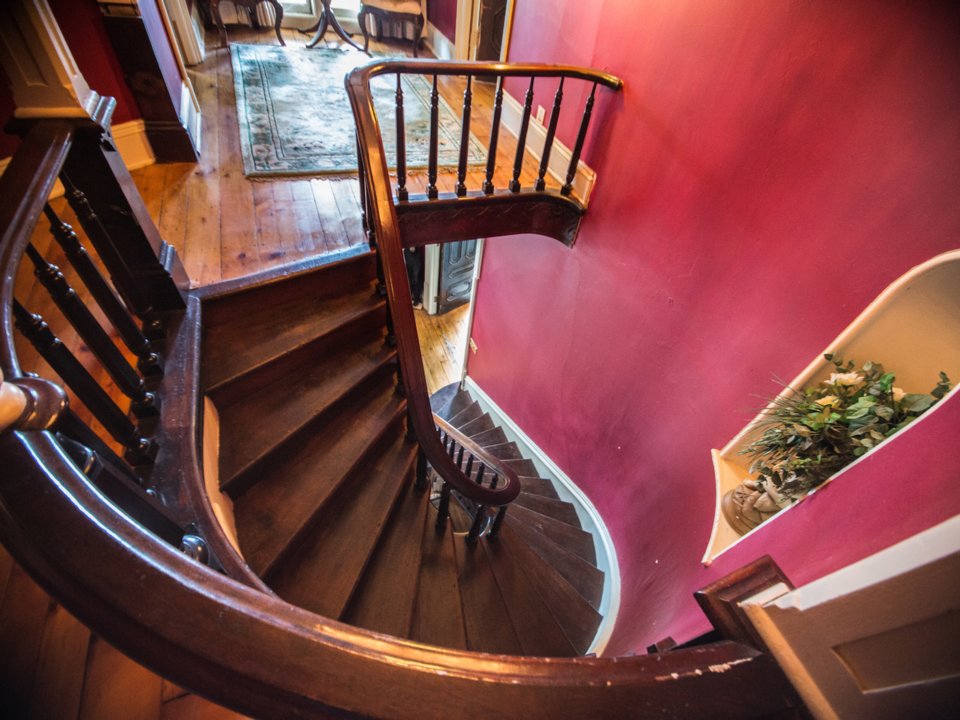 These are the older stairs, where people sometimes hear footsteps, even though there is no sign of any person. Mrs. Carr, pick a floor! Just kidding, Mrs. Carr, you can go wherever you like, up and down all night, it's as much your house as anyone's.
Speaking of which, it could be ours, and I think we should buy it. HEAR ME OUT. Upstate New York is beautiful, and this house is a stone's throw from the fourth-best Great Lake. You can get to Niagara Falls in an hour, or Rochester in an hour the other way. You can get a nice job in any other nearby city, like Carlton, or Hulberton. Or even try Rochester! And get this, we wouldn't have to live in the house full time, because the place has a delightful caretaker named Cora Goyette who also refuses to live there or visit at night.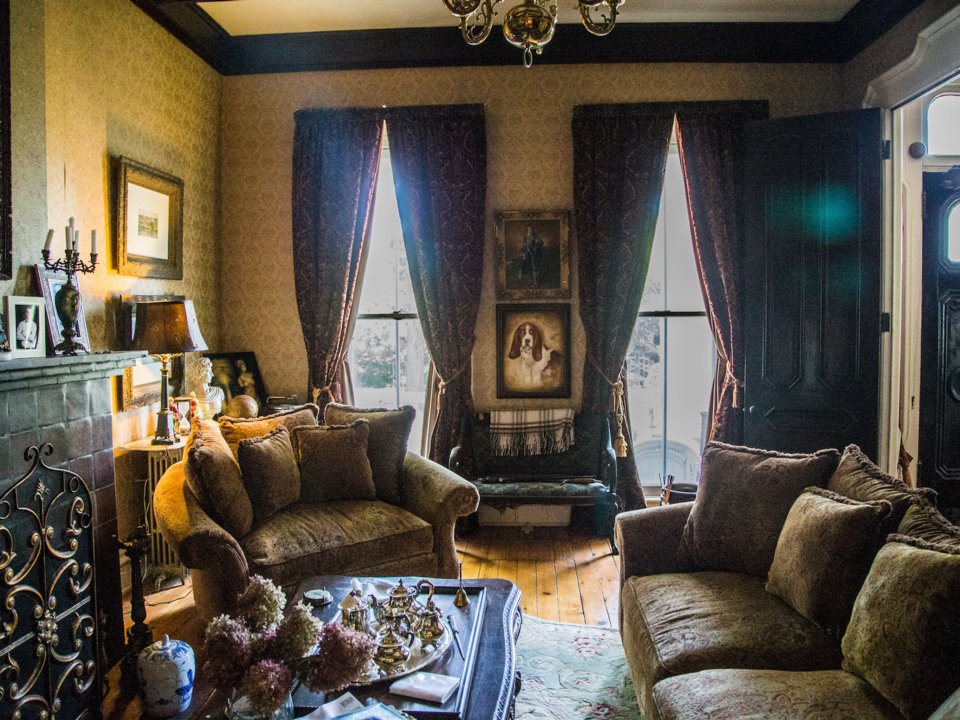 Seriously, look how comfy, and it comes fully furnished (must love dogs). Fully furnished is insane. So, basically, we form an LLC with a spooky name, each kick in a manageable amount of dough, the agent hands us keys, and none of us ever has to buy another couch for as long as we live. Are we stupid enough to do this?? (I probably am, that's a fact.) We could rent rooms out to people who want to meet a ghost! Or run a writers retreat aimed at all the modern-day M. R. Jameses! Or even just meet up once year to watch trampoline YouTubes aboard history's ultimate trampoline accident, the Titanic. The sky is the limit, you guys, and also whatever Mrs. Carr decides is the limit.
For tons more photos and info, see my ghostly source. Or to calculate our mortgage payments and learn about schools in the area, visit the listing.