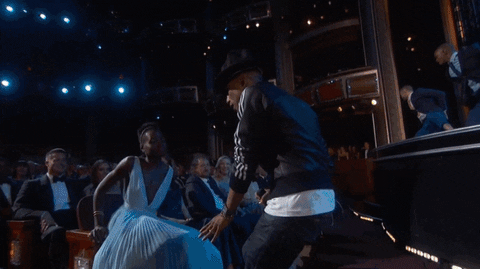 First: QUEEN IS OPENING THE OSCARS. I love this. I'm already taking guesses as to which song they'll do. In my head I hear the opening a capella voices of "Fat-Bottomed Girls," but just the name of the song will make people uncomfortable. Which I get, but man, that's a great song.
USA Today:

"If you're ever heard Queen's music, I think this will be something that will invite you in in a really great way," says producer Glenn Weiss. "The music is so well-known that this to us became a really great way to open the show and not be traditional like a normal awards show and depend on things like a monologue."
So, it's a really great way to do stuff! That's a lot of words to make something sound not exciting at all. What you should have said was WATCH, because QUEEN WILL ROCK YOUR BUTTS OFF. 'Nuff said.
Last night I decided Melissa McCarthy should win Best Actress for her amazing, understated performance as Lee Israel in Will You Ever Forgive Me? (I tend to root for whichever person I've most recently seen.) I'd choose her over Glenn Close just because the movie as a whole is better than The Wife. In my most humble opinion.
So, who do you think will win in the major categories? Or any category, since they will, thank Goddess, all be broadcast live? Here's my list, followed by the name of the person I think should win. This is based on my usual habit of having seen about half of the movies.
And I'm not going to watch Vice, a film about Dick Cheney. TOO SOON.
---
Best Movie, I mean Picture: A Star is Born. Two popular performers doing a great job, a popular story, and music. I'd love to see Roma take it. I'd guess Green Book, but I think the Academy will shy away from the controversy the movie has generated)
Best Actor: Christian Bale. They'll think it's his turn, and he gained all that weight for the role. I'm fine with that.
Best Actress: Glenn Close. It's time for this oft-nominated actress to get an Oscar already. I'd go with Melissa McCarthy, but if Yalitza Aparicio wins, I will stand and cheer. Wouldn't it be fun to see Olivia Colman win though? They're all so great! You too, Lady Gaga!
Best Supporting Actor: Sam Elliot. People love that guy, and he's been around a long time. I'm fine with that. Mahershala Ali and Sam Rockwell have Oscars, and Adam Driver is just starting to hit it big. Richard Grant is incredible, but not many people have seen his movie. This is an amazing field of talent.
Best Supporting Actress: Marina de Tavira. If Roma wins any major award, this is the one they'd choose. It would be roundly praised, and they wouldn't have to feel like they're taking a risk by giving Best Picture or Actress to, you know, a foreign movie. On Netflix. That may be the question. Is the Academy ready to acknowledge the existence of Netflix? I'd give this to Rachel Weisz because I love love love her and she should get one already.
Best Director: Alfonso Cuarón. I know, I said they'd only choose one for Roma. Going out on a limb here. He deserves it, and I don't know if the Academy is ready to give the Oscar to first-time director Bradley Cooper.
Also, what song will Queen open with??