Every since Bradley Cooper and Lady Gaga's wonderful performance of "Shallow" at the Oscars, twitter et. al. has been buzzing with rumors that they are in love. Or at least in sex. Never mind that Cooper is in a relationship with the stunning Irina Shayk. Or that both of them are good at their job, which is performing, which is a kind of pretending. Really, really good pretending.
On Jimmy Kimmel Live, Lady Gaga responded to the rumors. Calling social media "the toilet of the internet" (this fills me with glee), she continued:
"Yes, people saw love. And guess what? That's what we wanted you to see. You know, I mean, this is a love song, 'Shallow.' The movie, A Star Is Born, it's a love story. We worked so hard. We worked all week on that performance."
And just to make sure you understand how all of this makes her feel, she capped it off with a marvelous eye roll.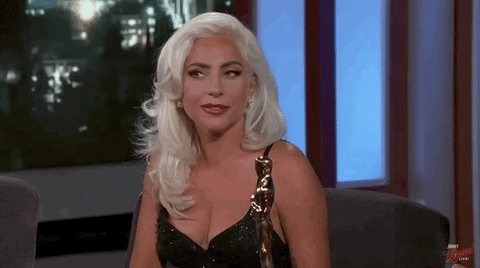 So, shut up internet, sometimes people are just acting. Really, really, well.
Also, feel free to share your weekend experience!